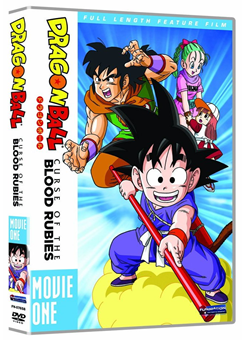 Funimation has announced the cast for the new English dub for the new DVD release of Dragon Ball Movie 1, "Curse of the Blood Rubies" (1986):  
SON GOKU ..... Colleen Clinkenbeard BULMA ..... Monica Rial OOLONG ..... Bryan Massey ROSHI ..... Mike McFarland YAMUCHA ..... Chris Sabat PU'AR ..... Brina Palencia PANSY ..... Cherami Leigh GURUMES ..... Jeremy Inman PASTA ..... Kate Oxley BONGO ..... Jonathan Brooks SHENLONG ..... Chris Sabat NARRATOR ..... John Swasey  
This movie is largely a retelling of Goku's first encounters with Bulma, Oolong, Yamucha, and Roshi, with a new context added involving new characters like Pansy, Pasta, and Gurumes, a king who has been transformed into a monster.  
This will be the fourth English dub of this movie thus far. The previous English voice for Goku in this movie was Saffron Henderson, who went on to play Gohan in Dragon Ball Z. Likewise, Colleen Clinkenbeard, who plays Gohan in Dragon Ball Kai's English dub will play Goku here. This will be Colleen Clinkenbeard's first real foray into voicing Goku as a child, as Stephanie Naldony had previously been the established voice for young Goku in the dub for the original Dragon Ball television series (and Gohan in Dragon Ball Z).  
I urge everyone who appreciates the effort Funimation has put into providing
Dragon Ball Kai
with an accurate, well-acted English dub, to pick up this movie. It's vital to support the
Dragon Ball Kai
cast, especially Clinkenbeard and Rial, great talents who provide new humanity for the characters they perform as. This will show Funimation that their extra efforts have been acknowledged and enjoyed.
Dragon Ball: Curse of the Blood Rubies will be available on DVD from Funimation on December 28, 2010.