As expected, I had an enormously interesting time at Otakon over the weekend. The sights, the sounds, the smells, the merchandise I spent a fortune on, these were things I will forever hold dear in the treasure chest that is my beating heart, along with the memory of all the people I shared it with. It is a place full of wonderous, hopeful joy and unbridled passion for Japanese animation, video games, and other things tangently related at best that people thought would fit in. In my dreams I still see that citidel of merriment, the Baltimore Convention Center, whose halls and doors filled with the best and brightest of anime fandom, and were sheparded by the utmost professional staffers to panels of most magnificent bounty. Few days have passed, but I already long for next year's congress. Oh, Otakon, how I will miss thee.
Oh wait. No, I went to this year's, didn't I? Yeah, that was really fucking stupid. Fun, sure, but also tremendously fucking stupid.

Let's break it down into days.
THURSDAY, JULY 26
After a long trip from Connecticut, I arrived at the Renaissance Baltimore Harborplace Hotel (lengthy name). It's actually a gorgeous hotel, but oddly enough, the hotel bar closes before midnight. What sort of bar closes so early? The room I stayed in was good, with a great bed, tons of pillows (in fact, probably too much), a decent sized desk from which to use a laptop, and a breathtaking view of the harbor. The restaurant in the hotel was nothing special, but the hotel was attached to two malls, so there was plenty of places to eat at. My only issue with the hotel was the slowness of the elevators, but given the number of people there for the convention, it was no huge shock.
I lined up for my badge and guides at the convention center, choosing the badge with the Gundam Unicorn design. Having forgotten to bring anything Unicorn-related for Tetsuya Kakihara or Michael Sinterniklaas to sign, I figured my badge should be enough if I couldn't find any good deals on Unicorn merch. It was horrendously warm, so when I left the con, I went straight back to the hotel to look over the guide.
Now, previously, I had made a somewhat loose schedule of things I intended to go to at the convention, and starred on the printed out guide the things I would likely get to, with some room to change my agenda depending on how things turned out. I was especially concerned about the first day, because the Anime News Network panel was very close to the first Brina Palencia autograph session, where I intended to get her to sign my Summer Wars Blu-Ray cover (I only brought the covers of things I wanted signed, because the DVDs and Blu-Rays themselves would have taken up too much space). I'd have to move quickly to the autograph signing after the panel, but I was confident I'd get a signature.
I had dinner at a Forrest Gump themed restaurant, where I received a glass that lit up as part of an order for a frozen lemonade drink. I ordered a burger that was overcooked. But I ate most of it. I spent most of the rest of the evening in the lobby of the hotel, where the wifi was free, updating my Twitter and anticipating my busy day the next day. I showered and turned in early (for me).
I knew there weren't a lot of guests I was thrilled for, aside from Aya Hirano, nor even a lot of panels I was interested, but I was hopeful that I would have a good time.
FRIDAY, JULY 27
The first day of Otakon had arrived! I got up bright and early, had breakfast at a local Starbucks, then made my way to the convention center to catch the ANN panel, with Christopher Macdonald (CEO), Justin Sevakis (Buried Treasure/Buried Garbage, ANNCast), Brian Hanson (Answerman), and Erin Finnegan (Shelf Life). Now, I (mistakingly) consider myself part of the ANN sphere, since I have done work for them, so to me, these people are my comrades (so delusional). I was honor bound to attend their panel and bask in the good natured fellowship of my peers (who don't know or care about me). The girl who sat next to me was dressed as Arale from Dr. Slump. I had never seen a Dr. Slump cosplayer before, so of course I complimented her costume and took some footage on my camera. I also took some footage of the panel itself, but the audio sucked. It was a decent panel, where we learned a bit about how certain things are done at ANN and were teased with things to come. It was strange to be able to put a face to the names.
The ANN crew; the picture is blurry because Justin Sevakis vibrates to prevent pictures of him getting out (like Superman)
After that, I scurried over to Brina Palencia's autograph session. There were plenty of people in line already, but I received a ticket for the next line, of which I was fairly early in. There really weren't that many people in front of me. Maybe thirty or so. But for some reason, whenever people would be let into the autograph room, they wouldn't come out for twenty minutes. I waited around about ninety minutes, the line barely moving, wondering what was taking so long. How long did it take to sign her name? Then it came to me. People were wasting Brina's time. Chatting her up. Getting pictures taken with her. Maybe even trying to get her to sign multiple things. The people in the line were getting fed up. We were getting angry, actually. Then an Otakon staff member came out and assured us Brina was extending her signing time. It would be all right. So we waited another thirty minutes or so until another staff member came up to us and told us to get lost. We weren't going to get her autograph. I was very disappointed, and kind of pissed that people had taken so long to get their autographs with no concern for others, but I understood. The woman is not a machine. She needs to rest, relax. She can't sign everybody's stuff. And after all, she had another signing session the next day! All hope was not lost. And it's not like she was the main person I wanted an autograph from. That would be Aya Hirano. So I steeled myself for the Dealer's Room and got in line for that.
The Dealer's Room can be very disorienting. There are people and booths everywhere. You can easily lose track of time and direction. And it's changed direction since I was there last. They used to have you enter the Pratt Street Way, now they have you enter the Otterbein way. But other than that, it's fairly the same since I last came back in 2006. Industry booths out front, other dealers (anime stores and the like) futher back. The Funimation booth was selling Panty & Stocking real hard. I mean, they had a stripper pole set up with two women dressed as the titular characters, dancing on the pole. (You know, for kids!) I didn't find the Discotek booth until the next day. I ignored the Sentai booth (they don't really license a lot of stuff I'm interested in). I debated over whether to get the volumes of Gundam Unicorn I'm missing, but ultimately decided I wanted to go for stuff I can't normally find.
Eventually I did buy some crap. I bought two volumes of Tuxedo Gin, a manga licensed by Viz, wherein a guy (sort of) dies and is resurrected as a penguin and lives with his love interest who is unaware he's become a penguin and lets him takes baths with her. Hilarity ensues. It's cute and involves penguins, and I have trouble finding it, and there was a sale on manga, so I purchased some. I also snagged a volume of 20th Century Boys I hadn't owned yet. There were some excellent deals. 20% off in this case. The man in charge of the booth was working feverishly, speaking through broken English as he counted money, sweating profusely, but very amiable. It made me want to buy more from him, but I had to move on, because I wanted to buy different crap at that point. I purchased a Fujiko Mine figure with a stand. She's dressed in a black and white striped prison outfit. That was it for that day.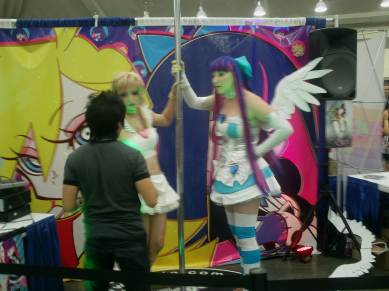 "For the last time, Mr. Rojas, we do not do private parties!"
After a while I realized I hadn't had any lunch. But there was no time for that, I had to get to the Sailor Moon panel! Yeah, the Sailor Moon panel. I was curious as to the speculation over the new series and the possibility of the licensing of the old one(s). Not that I'm a gigantic SM fan, but as a Dragon Ball fan I feel a kinship to SM fandom. And I know some people who really love the franchise. Well, the panel was at the Hilton next to the convention center, but I had never been there and I wasn't sure where exactly the bridge across from the convention center to the hotel was. It took a while for me to find it (and I forgot where it was by the next day) and I had to walk quite deeply into the building before I found the panel, which was already starting. But after some time, I realized there wasn't much to it. They played a few clips, like of the live-action Sailor Moon series, and the main panelist discussed how Naoko Takeuchi was a feminist and insisted a female staff on the anime. I didn't know that. In fact, I still don't know that. I should check to see if that's true. But I quickly lost interest, not being a big SM fan in the long run, and left well before it ended. After all, it was time to go get Tetsuya Kakihara's autograph!
 
Now, okay, fine, Gurren Lagann isn't my favorite anime of all time, but I did quite enjoy it, and thought Kakihara did a great job as Simon. He was invited to Otakon mainly to whore Gundam Unicorn, in which he plays Angelou Sauper, Full Frontal's personal bitch, and an extremely minor character who has six lines so far. (In fact, Full Frontal isn't really a major character, either, it seems.) I brought the cover to a GL DVD I own and wanted him to sign that, since it's his most representative work, at least to me. I was there at least an hour early, and the Otakon staff told me there was no line for the session yet, so I had to just hang out around the area and not block the path of others getting through to get Gen Urobuchi's autograph. So I decided to use the restroom for a few moments, because according to them I had plenty of time.
Well, this didn't turn out so well. When I came out of the restroom, there was already a line (even though I'd been there for only a minute or so), but I was still pretty confident I'd get Kakihara's autograph. So I waited in line. And waited. And waited. And about two hours passed before an Otakon staff member came to the line and said they were cutting off the line because Kakihara is only signing 100 autographs that day. This was not in the programming guide. Not on the schedule. Not anywhere. According to the staffer, Bandai was behind this particular fuck over. But perhaps if somebody informed me of this limit, I would have instead and done something else, like stand in line for the Toonami panel. This was now the second time in a single day that I missed out on an autograph. I was hot, sweaty, tired, carrying heavy bags of merch, stood in line for two hours for nothing, and hadn't had any lunch (okay, that one's my fault entirely). So naturally I was pretty pissed off. I went back to the hotel, stood in the long line for the elevator, got up to my room, slammed the door, and cursed Bandai loudly. It was dinner time and I wasn't about to skip that meal, too, so I went and had some pizza at Uno at the mall. It was a thirty minute wait before I even got a seat. Why did I want to come here again?, I wondered.
At around 9 pm I headed back to the convention. I'd reapplied my deodorant (something I did regularly, as to not add to the con funk), splashed some water on my face, dropped off the crap I bought that day, and made my way back to watch the Dragon Ball Z Trunks TV Special. It was in Japanese with subtitles, to the dismay of some there, but to my delight. I'd seen a few times already, so it was nothing new to me, but I just liked watching Japanese DBZ with other people. Some sang along with "Cha-La Head Cha-La". Others laughed at inappropriate moments. I noticed that Kikuchi's score wasn't used very well in some scenes (though it was in most of the important ones). I stayed for most of "Aoi Kaze no Hope".

I still had plenty of time before the panel I really wanted to see, Daryl Surat (from Anime World Order)'s "Anime's Craziest Deaths" at 12:30, so I decided that even though it wasn't something I scheduled for myself, I wanted to check out the "Voice Actors After Dark" panel. I got there a little late, but got to the front of line pretty quickly. Then I realized I hadn't gotten a 18+ wrist band, and had to go get one and then come back and stand in line again. When I finally got into the panel, several VAs were taking turns reading Shades of Grey. I was recording it, as it was pretty hilarious. Which, of course, was another mistake. One of the staffers indicated to me that no recording was allowed, though there was no indication on a sign outside. I later found out they had told people not to record, but that was at the beginning of the panel, and I had missed it. They told me to delete the footage or I would be escorted to Mission Control, or whatever they called it. I'm still getting used to the camera, so I didn't know how to, so I was brought to Mission Control and somebody instructed me how to delete the footage (funnily enough, any footage I took of panels came out poorly, audio-wise, so you'd only just see mouths moving and not hear a thing). As this was very embarrassing, I didn't bother going back to the panel. The place was packed and my seat was probably already taken. The lesson here is probably "ask if you can record to the staff outside the panel room". But the lesson could also be for Otakon staff. "Post a fucking sign that says no photography or recording."
With that, I felt utterly defeated. I didn't even bother to stay around for the other panel. I was exhausted and demoralized. As I left the convention center, however, I heard fireworks. Fireworks! Great, I thought, I'll get some footage of that. I turned around and pointed my camera at the stars, but the fireworks stopped. I waited a while to make sure they were over, then went on my way. Close to the hotel, I heard the fireworks again, but they were too far away. The bar entrance was closed, so I had to go around the other way and then stand in an enormous line for the elevator. When I made it to the hotel room, I showered and turned in. Surely the next day would be more fruitful. After all, according to the printed schedule, Aya Hirano was doing an autograph session.
 Oh Pen Pen, you scamp. I see you came to Otakon as a neckbeard. 
SATURDAY, JULY 28
Saturday morning brought with it the hope meeting Aya Hirano and a breakfast of doughnuts and chocolate milk. There wasn't much for me to do that morning, so I would go to the Dealer's Room. Of course, as I headed out, there was another maddening wait for the elevator. It wasn't just people there for the convention, but people there in Baltimore for the Junior Olympics. Not to mention all the foodies and fatties for Restaurant Week. And there was an Orioles game the previous day. And it's fucking Baltimore. But I had the time, so I wasn't too broken up over it. I had a good feeling about Saturday. Things were going to turn around. Otakon was a place full of passionate anime fans like myself and I was amongst my people, so why not try to keep a positive attitude for a change? That day was going to be great, I could just feel it.
I was greeted with the sight of a an actual Yang Wenli cosplayer. Fucking Yang Wenli! You never see Legend of the Galactic Heroes cosplay. I took a photo. To me, this was a good omen. I made my way to the Dealer's Room line, which moved fairly quickly on that day for some reason. As usual the crowd was thick in the Dealer's Room, but I managed to find some space here and there to breathe. I found the Discotek booth, where they were selling the first Lupin III series, but I passed on it with the intention of waiting for the price to go down a little. There was no stripper pole action going when I was there, so I turned my attention to finding more stupid crap to buy and found it in a Princess of the Crystal/Himari figure and a Pen Pen keychain. In between finding these, I browsed the DVD shelves and picked up various free things. I ran into a bunch of Legend of Korra cosplayers, including several of Amon. Not really anime, but anime-ish, at least. Of course, I also ran into just as many Spider-Mans, Batmans, and Captain Americas (most of which were female, oddly enough). The previous day I had looked for the second season of Ghost in the Shell: Stand Alone Complex and somebody said it was selling for cheap at one booth, but when I looked, I couldn't find it. On this day, I found it and bought the set for a very reasonable price. I also got a little Pen Pen plush keychain and a Greed keychain/phone charm/whatever. It was the first time I ever saw any Greed merchandise, so I immediately pounced on it. Fittingly enough, I ran into a Greed cosplayer almost immediately afterwards, showing him my find, with his approval. Sometimes I really love other anime fans.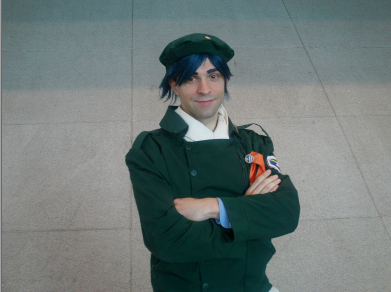 This picture is proof that anime fandom in America is not hopeless. 
I again got caught up in patrolling the Dealer's Room and stayed way too long. By the time I got out, it was too late for me to watch much of the Galaxy Express movie being shown. I wanted to see it, but it's not like I haven't seen Galaxy Express before (it's been a while, though). It was lunch time and I wasn't going to skip it this time. So I unloaded my bounty at the hotel room and headed over to the Pratt St. Pavillion for some Five Guys. Since I had a bit of a stomach issue before leaving for the con in the morning, I didn't want to push it, so I just got a little burger and a drink. I was surprised to discover that there were free drink refills at this Five Guys, unlike my local one. On a hot day like that one it was like a little miracle. I had my lunch, freshened up, and then headed back to the convention.
The Aya Hirano signing on the printed schedule wouldn't start until 4:00 pm, but I was determined not to be left out, so I got there around 2:00 pm just to be extra prepared. I had a water bottle, a box of Oreos, some caramels, a little fan, and reading material. I didn't care, I was going to be early, even two hours early, and wait that shit out. My main goal at Otakon was getting Aya's autograph. I wasn't about to let what happened with Brina Palencia and Tetsuya Kakihara happen again. I even was skipping the Aya Hirano Q&A to wait. But when I got to the autograph area, the sign said that she wouldn't be signing until 3:00 pm the next day, after her concert, as the online schedule had previously proclaimed. But here was the printed schedule saying Aya Hirano was signing at 4:00 pm, Saturday, which is what I prepared for. A con staffer who didn't know what was going on directed me towards the Information desk, where somebody informed me that the autograph session had been cancelled for that day and she would indeed be signing the next day. I was livid, but I figured that at least I could see if I could catch her Q&A, though I'd be late, so maybe not.
Well, when I arrived at the Aya Hirano Q&A, guess what happened? It was already over. Yeah, you see, it had been moved back, and it ended at 1:45, instead of 3:00 as scheduled. So I had missed Aya Hirano's Q&A and I wouldn't be getting her autograph that day, either. I would have to wait until the next day, the last day, when I had to leave at a reasonable time to get home before it was late. The hotel had a check-out time of noon. What the fuck was I supposed to do? Stay an extra night? Each night was expensive. At this point, I was in fucking rage mode.
The Gundam autograph session was going on, but I hadn't bought any Gundam products from the Bandai booth, and you needed to in order to get a ticket to get into to that signing. Besides, fuck that signing. I was still angry about not getting Kakihara's autograph and about Michael Sinterniklaas not even attempting a regular signing session. Hey, Sinterniklaas. I like your work. I especially like Gundam Unicorn's dub. It's probably the greatest English dub a Gundam anime has ever had. But if you're a VA invited to Otakon, either do a regular autograph session, or decline to come. Even fucking Peter S. Beagle was right there in the Dealer's Room, every day. Nobody needed a special voucher for him. Then again, I'm sure he was just glad anyone knew who he was.
And the worst part? It was already too late to line up for Brina Palencia's second signing.
All was not lost, however, because I had a few choices left. One was to go line up for the Funimation industry panel and be there to hear the new license announcements firsthand. I could go to Sunrise's Gundam panel (I still don't know what they did in that, does anybody know?). I could get to the Trina Nishimura signing, get my Rebuild 2.22 Blu-Ray cover signed. There was a "Worst Anime" panel coming up, too. I was willing to sacrifice any of those for the chance to get Aya Hirano's autograph, but I was freed up. I ultimately decided to give the Funimation panel a go. After all, their Anime Expo announcements were pretty tame, so they were probably saving their "A" material for Otakon, right?
Funimation's panel started with plenty of cheering for Justin Rojas and other representatives. Then came the trailers for things they'd announced previously. There was absolutely no crowd reaction to either Dragon Age or the Mass Effect anime trailers. I felt pity for them. People just did not give a shit about those things. They wanted some brand new anime license announcements. Well, really, they wanted some Sailor Moon. Or Mawaru Penguindrum. Or more Dragon Boxes. That's all people talked about in the line for the panel. There certainly wasn't any talk about Dragon Age, despite the hard push Funimation was giving it. I have a feeling that's going to be a dud for them. I could smell the desperation from them. I could also feel the impatience in the crowd as they waited for some new announcements. Then, after much other padding, they finally came.
To start out (if memory serves), there was some One Piece news. They announced that they were contuining to dub the show, for one, and "season 5" would be coming out soon. Maybe it's just because I'm not a big OP fan, but I didn't think it was a con-worthy announcement. You mean this show they've been dubbing and releasing for the past few years is continuing to be dubbed and released? Do tell. Then they announced they had the license for the popular One Piece: Strong World movie, which was met with much applause. Oda himself was involved in that one, wasn't he? I guess that was pretty exciting. They announced a couple of shows I've never heard of, Sankarea and Maken-Ki! Battling Venus, that frankly look like they're terrible. They also got Aquarion Evol. I couldn't make it through the first series, even with Yoko Kanno's music. Also more Fairy Tail stuff. Yawn.
Strangely enough, they announced the license to Space Battleship Yamato: Resurrection, which for a moment I thought was the reboot series, 2199, so I celebrated. Then I realized it was Nishizaki's last hurrah, the revival that never quite took off. Well, it might be worth looking into as a curiosity. After all, no Yamato has been released over here in a long time, let alone dubbed (which I assume it will be, since it's Funimation). Akira, for whatever reason was going to be re-released. How many releases does it make now? Is Funimation going to redub it? I was happy to hear that the new Lupin III series, The Woman Called Fujiko Mine, was coming out on home video, even though it's a bit of a no-brainer, given they've had the license for a bit and there was the simulcast on their website. Not looking forward to Sonny Strait as Lupin again, though.
They also announced they'd be releasing Isekai no Seikishi Monogatari, St. Knight's Tale, or as they call it, Tenchi Muyo: War on Geminar. It's a mistake to market it as Tenchi Muyo, since it doesn't feature Tenchi, Ryoko, Ayeka, or really anyone previously known to the franchise. It does feature Tenchi's half-brother Kenshi, but he falls into a parallel world, so it doesn't even really take place in the same world. And yet Funimation announced it as "a brand new Tenchi Muyo show". Well, it's not Tenchi, strictly speaking, nor is it "brand new" (it's from 2009). I have a feeling if they continue to market it this way, people are going to be awfully pissed off when they see what it's really about. But on the plus side, they don't have to worry about people bitching about cast changes, since none of the regular Tenchi characters are in it. They also said they'd be releasing Tenchi Universe and Tenchi in Tokyo, but no word yet on the first two OVAs or the movies.
And that was it. Yep, that was it. They didn't get the original Sailor Moon series (license to print money), the new one (hasn't come out yet, so no surprise), or Mawaru Penguindrum. How has nobody fucking licensed Mawaru Penguindrum?! Even Sentai didn't announce it. Other than the confirmation on the Lupin show on home video, I left the panel feeling a bit underwhelmed. Once Funimation takes a hit for Dragon Age and Mass Effect (and let's face it, they will, nobody gives a fuck about those) they're going to wish they had struck while the iron was hot and snapped up Sailor Moon. Honestly, SM fans get screwed more than DB fans ever did (wow, did I actually say that?).
It was already dinner time, but I was determined to watch Gundam Unicorn episode 5, as I hadn't yet seen it. Strangely enough, I haven't gotten any volumes of Unicorn since the third. I don't know why. I just have had other anime on my mind. I love Unicorn, but I keep thinking, "Eh, maybe it'll go down in price", which isn't likely. I arrived early at the showing, so the line wasn't very long, and it moved swiftly. There were a few Federation and Zeon uniforms in the line, even one person waving a Zeon flag. After reading just how many people (many of which were innocent civillians) the Zeon killed in the Mobile Suit Gundam novelization, I sort of cringe now when I see Zeon fanboyism. But I happily entered the video room and watched Unicorn ep 5 with a bunch of Gundam fans (at least, I assumed they were, though some seemed to have no idea what exactly they were watching). I didn't stick around for the Q&A, though, because I was extremely hungry.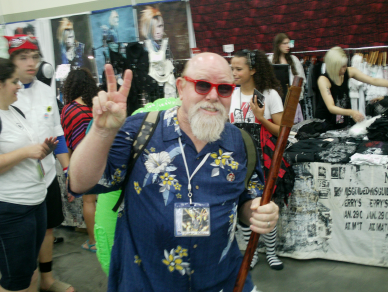 Better casting than Chow Yun-Fat!
Perhaps going to that viewing was a mistake, because at this point every restaurant in the area was filled with people and hour, two hour waits were the norm. I eventually got food at a place with only a thirty minute wait. They were playing the Olympics on television at the bar and I noticed a severe storm warning. There'd been a storm a couple days previous when I'd arrived in Baltimore, when I was unwinding for the night. I was hoping this new storm wouldn't affect my ability to return to Otakon later that evening for the Lupin III panel. Fortunately the storm never materialized in that area.
I rested at the hotel a bit, making the mistake of not taking into account the amount of time it takes to wait for the elevator or the distance between the hotel and the next panel. By the time I hit the streets, I realized I had to hurry. The Lupin III panel was in the Hilton attached to the convention center, and rather deep into it. I hurried on foot, a sweaty exhausted mess by the time I got to the line for the panel. It was probably a good thing I didn't bother to go to the Avatar: The Last Airbender panel earlier, since that was cancelled and replaced with an Evangelion one (though I might've been interested in that, too). I actually got out of line for the Lupin panel after somebody told me it wasn't the line for it, when it really was. Not Otakon staff's mistake this time (though they could have done a better job regulating the lines), it was some fuck knuckle in front of me in line. I ended up near the end of the line again, but surprisingly, was able to get a good seat at the panel. Oh, and this time I'd remembered to get the 18+ wristband.
The Lupin III panel was entertaining. We saw a bit of the Pilot Film, some of the openings for the various TV series, clips of different dubs, a clip of the end of Gold of Babylon, and others. I was surprised no mention of the live-action movie was made. Daryl Surat of the Anime World Order podcast was the panelist, and conducted it well, though he overestimated how much time he had and had to cut things short because of it. The crowd displayed some enthusiasm towards the subject as Surat expertly regailed us with trivia about both the manga and TV shows. If you missed me, I was the creepy guy with the Fujiko figurine on the chair next to me (MAI WAIFU, duhr huhr). A wonderful panel, made my night, and made up for some of the crap I went through that day.
Then it was off to the hotel for a shower and bed. With the energy infused in me by the Lupin III panel, I was more determined than ever to make my visit to Baltimore worthwhile. Come hell or high water, I was going to get Aya Hirano's autograph the next day! I was going to go to her concert and I was going to get her autograph. Even if I had to skip everything else and even ignore the last day deals in the Dealer's Room, I was going to see Aya.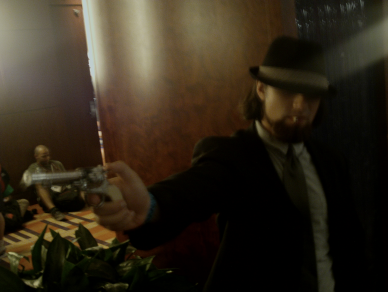 This Jigen cosplayer is friggin' great. 
SUNDAY, JULY 29
By the time I woke up the next day, my energy from the night had left. I was just utterly exhausted. I'm a shut-in. I communicate with few people each day. Otakon can be a bit overwhelming to me. All the people, the lines, the heat, the noise, it was a lot to handle. It was great to be around passionate anime fans, sure, and I had some good times getting pictures of cosplayers, watching some anime with others, talking about it in the hallways, finding interesting merchandise. But three days of a city crowd is off-putting. I don't live in a heavily populated area and I don't even get out much to begin with. I was starting to like Baltimore, but I was glad it was time to leave soon. I was worn out from the bustle and from the failure I experienced. I didn't predict any better for that day.
I didn't bother with breakfast. I knew I had to get to the con early. The Dealer's Room would only be open until 3:00 and I was going to be at the Aya Hirano concert, so I probably wouldn't have a lot of time, so I had to hurry. When I got there, though, I was unsure of what to do. I'd been screwed in lines before, so I knew I had to get in line extra early for the concert. So in a moment of carefulness, I asked the Otakon staff when would be a good time for me to line up. As usual, they fumbled around a bit before answering, "Now would be a good time." This was the most helpful they were the entire convention, because I could see a line already forming. The concert wasn't supposed to start until 12:30. Seating not until an hour earlier. It was only around 9:30. Fuck, I said to myself, I don't have time for the Dealer's Room. It's a sacrifice I'll have to make.
So I got in line for the Aya Hirano concert. Having had no breakfast. Fortunately, I brought a box of Oreos I bought the previous day from the hotel gift shop, because I thought I'd be in for a long wait in the (cancelled) Aya autograph session line. I also had a water and a Nintendo DS with me. Also my mp3 player, but I always had that with me. Essentials. Should have had them with me in the other lines. I could see I got there at a good time, since there weren't that many people in front of me, but I knew I'd have to wait a long time, so I kept myself busy with Tetris and a downloaded Adam Carolla podcast wherein he discusses having a universal standard for hotel shower knobs (as they vary). I agreed with him. A guy came by singing "I'll Make A Man Out Of You" from the Disney movie Mulan. Everybody joined him. Not anime-related, but it was fun, regardless. And who doesn't want to defeat those Huns?
After a long wait, the line moved down into Hall D in the basement, where we were seated. The space was big, the set up was big, and there was plenty of room. It was only then that it hit me that I'd be in the same room as Aya Hirano. Haruhi! Misa-Misa! Dende! (Okay, so nobody cares about Dende.) I was starting to fanboy pretty hard. What was wrong with me? Her Haruhi was excellent, and I thought she was a good singer and very attractive, but it's not like I was the hugest Aya Hirano fan of all time. I don't even own any of her albums, just singles that came with the Haruhi sets. Still, I was going to be in her presence, going to hear her sing up close, and maybe even get her autograph! It was announced she'd be doing an autograph session right after the concert, and I assumed the line would start from the order people were let in.
I noticed that some folk didn't really seem to care much. A guy who I let get in front of me even though he just got in line sat next to me unimpressed. During the concert he didn't even move around, move his head, anything. It was just like he was only going to fill time. It made me a bit miffed. Why not make room for a real fan of Aya's? But it doesn't work that way.
I, on the other hand, was extremely excited, as were others, who waved glow sticks and Aya Hirano towels (available for purchase right at a table there). When Aya finally came out on stage, a roar erupted from me that I barely recognized as my own, joined by several others, until it was one large thunder coming from the crowd. She was a cross between adorable and sexy, sultry and innocent. Short pink dress, bow in hair, little stars next to her left eye, wearing gloves, thigh high boots, that unopresssable energy surging through her that caught on in the audience by osmosis. When she told us to get to our feet (in broken English), we did so. She started her first song and there was an explosion of excitement amongst (most of) us. First she sang some songs I wasn't very familiar with, but eventually got to the Haruhi songs, like "God Knows", where she really belted it out and "Super Driver" the opening for the second season. When she finally left the stage, the crowd demanded an encore, which we got, in the form of two songs, one being "Bouken Desho Desho?", the first Haruhi OP. After one last song, she made her exit again. The crowd again erupted in cheers. The house lights came on, and it was time for the autograph session.
Hey everyone, it's the voice of Dende in Dragon Ball Z Kai!
Well, first it was time for a huge swarm of flesh to whirl around Hall D, some looking for the exit, others looking for the autograph lines, many unable to move at all. Instead of lining people up by row, the Otakon staff simply just let people go "every man for himself", pushing and shoving each other to get to the line for autographs. I was already near the line from where I sat, but I was told the line started at the back of the room. When I got there, however, I was directed in a different direction, around the back of the room, where I was told I was going in the wrong direction by another staff member, who directed me in yet another direction. I ended up at the very back of the line when I had been going in the right direction to start with. The line was pretty long. But I though I might still have a chance. That is, until another Otakon staff member told us that past a certain person there would be no autographs. She dismissed the rest of us. I was devestated. Not only was I unable to get Aya Hirano's autograph, but I wasn't able to get anybody's the entire time. There was a session later on, but I didn't have time for that. I was already over the time limit on the hotel room. I had to leave. I had to go home.

What the hell was wrong with the staff? They could have organized that signing so much better. For one thing, the earlier you got to the concert, the earlier you should have had access to Aya. They should have lined up people based on where they were seated. The free-for-all bullshit and the misdirecting by staffers cost me my autograph. Worse yet, I read on the Otakon forum that after I left, her session was extended and everybody remaining got autographs! Fuckdamn shitcunts, that's aggravating. She was the main event for me! She was clearly the biggest name at the con, aside from maybe the Madhouse/MAPPA guy. Why did her after concert signing have to be such a clusterfuck?
With mixed feelings, joy out of seeing the concert, pain over not getting Aya's autograph, I left Hall D and went to the Dealer's Room for the final time. I didn't have a whole lot of money, but I was willing to spend the rest on the Lupin III first series boxset that I didn't previously buy. However, the Discotek both was all out of them already, so I went looking for something else. I ended up buying the second set for the original Mobile Suit Gundam, at a discount booth, because I didn't want to give the Bandai booth my business after the Kakihara incident. I was pretty much out of money, so it was time to leave Otakon.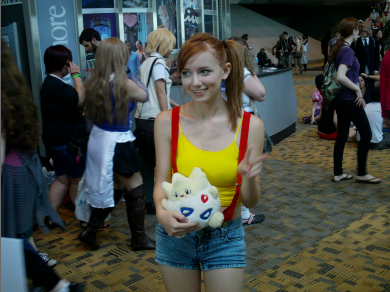 I'd owe her a bike, if you know what I mean. (I don't even know.)
I had lunch at The Cheesecake Factory, where I didn't have cheescake, but I did have an awesome hamburger I made sure to get medium well. I reflected on my days in Baltimore, regretting that I never got any autographs, but appreciative for the convention itself. Still, I wanted to complain to somebody about the problems I had. If only I had time to stay around for the "Con Feedback Session"! I'd give them a piece of my mind. Oh well, there was always the internet.
So I departed Baltimore, unsure whether I wanted to come back to Otakon next year, but not entirely ruling it out.
ALL IN ALL
Otakon had 32,574 in attendance this year. The place was packed. All places were packed. There was an ocean of people there for the con and other things. Baltimore natives probably were annoyed as hell over it. I know I would be. You could barely breathe in the heat and crowds. Forget getting in line on time, on time is an hour early, at the least. The best thing to do is not to plan to do too many things that are close together. Some of my failures at the con were not the fault of the staff, but rather my lack of foresight or just plain bad luck. My problem with the staff is mostly that they exacerbated it, made it worse, not just for me, but for others. In all my bitching and whining, do you think I was the only one there getting fed up with that kind of shit? No. Ask anyone who was in line with me to get Brina Palencia's autograph. We were getting downright violent. And it's Brina Palencia! Not the fucking President. Tempers were running high and the staff was not helping by having few answers and misdirecting people.
I didn't hate Otakon. In fact, I had quite a bit of fun at Otakon. My main purpose behind this article, this story of triumphs and defeats (but mostly defeats) is to provide an amusing account of my rotten luck. That you may laugh at my misfortunes. I know if this shit had happened to somebody else, I'd find it hilarious, and therefore everyone else must be as sadistic as I am, right? Come on, this long series of fascinatingly unfortunate incidents is fairly entertaining, right?
To tell the truth, I liked Otakon just fine. I got some good DVDs, finally found Greed merch, got to talk with people in person about things I normally don't discuss off the internet, enjoy some interesting tidbits from panels, watch anime with fans, see a lot of great costumes, and feel the passion of other anime fans. Also, I will never, ever forget the Aya Hirano concert, because it was great and it was the first concert I've ever been to.
But, it's still fucking stupid. I'm 29 years old now, and I spent three days fanboying about cartoons at a convention. It seemed like there were setbacks at every turn telling me that at some point I have to get over this shit, move on with my life, stop being so over the moon for anime. Maybe that will happen, and I'll put away all the plastic models, figures, posters, and plushies, and become sophisticated and mellow. Become a man of adult interests, with a taste in sports, the stock market, and Post-Impressionist paintings by Georges Seurat, and their analysis. Who spends their days writing long sonnets and their nights playing chem de fer with the aristocrats down at the country club as we discuss the works of Norman Mailer, arguing over whether his interest in Hitler's bowel movements in Castle in the Forest were substantive or obsessive. Then I'll unwind with some Pinot Noir on the porch as I listen to NPR and complain to my corrupt businessmen friends about my fourth mistress, a high priced call girl named Angeline whose accent is just not quite British enough for my tastes, and who never uses enough tongue, not like my stepdaughter, who is now nearly 18, and probably won't tell her mother if I continue feeding her drug habit. Maybe, my good friends, that day will come, and I will finally be an adult.
It just won't be anytime soon, is all. I'm having too much fun reading about that guy who died and came back to life as a penguin.
(Hilarity ensues.)
Baltimore, MD (not pictured: the utter agony of Otakon)